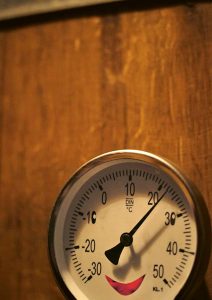 2021.
"Years ending in 1, years of none", that's what the old folk used to say.
Everyone will interpret 2021 through the lens of this adage and, depending on how the year went for them, will either confirm, refute or modify it.
For us, one thing is certain, the weather made this one heck of a tricky year!
It all started with a spell of cold, damp weather at the beginning of April which quietly went about its business in the vineyards burning a few buds here and there and, in some places, many more!
June and July were interrupted by heavy rainfall, that fell almost daily and forced us to intervene quickly in the vineyards to attempt to contain the mildew.
It was sometimes very difficult to find a window of fine weather in which to carry out the work…
The sun and the heat were still pretty much absent over the summer and, as a direct consequence of this, the harvest only kicked off on 23 September this year (it was on 28 August in 2020).
We had to patiently wait for the grapes to reach good aromatic maturity while keeping a close eye on their health.
It was a challenging year for organic growing.
So, this year we harvested the grapes from 23 September to 5 October employing a smaller team, because during the summer we had already accepted the fact that the harvest would not be a big one. Hugh thanks to our merry team of pickers and to the weather which, in the end, was fine!
In the winery, after the last three sunny vintages, we are now returning to something more typically "Loire" with "reasonable" degrees and nice balances. Yes, the wines are a little lively in their youth, but they will have a good cellar-ageing potential.
We often say that difficult years like these are "winemaker years" i.e., heavily dependent on the skill of the winemaker.
In addition to the questions that we usually ask ourselves with each vintage, we also look at the long-term implications, at the future of the generations to come.
What evolution, what directions should we take for our vineyards and our natural
environment of today?
Massal selection, eco-grazing, biodiversity, planting of hedgerows and trees in and around our vineyards, are some of the directions we have already been taking for several years now.
Nothing happens overnight, we have to observe, learn, understand, experiment, etc.
So, "Years ending in 1, years of none"?
For some of our fellow wine producers, sadly, yes.
For the more fortunate among us, we would say "a year of less"!
On top of this, as we saw in the aftermath of the April 2016 frost, we are now forced to reduce, allocate and share the available wine…
We thank you for your kind understanding in this respect and for continuing to put our wines on your tables. As ever, we look to you to share our wines wherever you may be…
We wish you all a very Happy New Year.
Contact
domaine Pellé
18220 MOROGUES
Tel. +33 (0)2 48 64 42 48
Open (tasting and shop) Monday to Friday : 9 - 12 am / 1:30 - 5:30 pm
Closure : Saturdays,  Sundays and Holidays
Reopening on Saturdays 3 pm to 6 pm from April 8th 2023
COVID-19: we kinldy ask our clients to make sure they respect advice on barrier mesures.